Experience glamping (glamour camping) in your very own deluxe safari tent just minutes from Yellowstone National Park. During the day enjoy a variety of activities including a full day tour of Yellowstone National Park, admission into the Grizzly and Wolf Discovery Center, a kayak tour on Hebgen Lake, and a 2 hour horseback ride.
Enjoy a one of kind luxury camping experience with Montana Under Canvas. This 4 night package includes your stay in a deluxe safari tent complete with private bathroom. It will be camping like you've never experienced before.
On your first day in the area enjoy a full day guided tour of Yellowstone's Lower Loop, featuring top attractions like Old Faithful and the Grand Canyon of the Yellowstone River.
Back in West Yellowstone, we'll include a 2-day admission to the Grizzly and Wolf Discovery Center. See these wild creatures up close in a simulated natural environment. All of the animals at the center cannot live in the wild due to injuries or encounters with humans.
Spend part of a day on horseback with a fun guided 2-hour ride through nearby mountains. Your trip will be complete with a peaceful sea kayak tour along Hebgen Lake right at sunset.
The loose schedule gives you plenty of time to explore the area on your own. Reenter the park, find a nearby hiking trail, stroll through downtown West Yellowstone, or test your luck fly fishing the nearby Madison River. This package is easy to customize if you want to add or remove any activities.
This package includes:
Deluxe Safari Tents
A luxury glamping experience in West Yellowstone. Each deluxe safari tent is equipped with a king sized bed, linens and towels, rugs, safari chairs, cot stand, chest of drawers, bedside tables, lantern, and wood burning stove with complimentary firewood.
From your private patio enjoy a superior uninterrupted view in lounger chairs. You'll have your own private bathroom in a tipi next to your tent, complete with shower, sink and flushing toilets.
Non Smoking
Eco Friendly
Restaurant on Site
Free parking
---
2 Hour Evening Horseback Ride in West Yellowstone, Montana
An evening horseback ride is very relaxing and offers your best chance at spotting wildlife. Shady trails offer a peaceful and serene setting and the air is so pure and sweet.
You will return back at the ranch at approximately 7:30pm, just in time to go to the Rodeo down the road which starts at 8pm.
2 Hour
Guided
Equipment Included
Mountains
Photographic Opportunities
---
1/2 Day Yellowstone Lake Kayaking
Get out of the car and stretch your legs on an easy half-day Yellowstone kayaking tour of Yellowstone Lake's West Thumb Geyser Basin. Earth's hottest show and Yellowstone's awesome natural phenomena—all just beyond the bow of your boat. Candidly, we're not offering you access to anything you couldn't see from the crowded boardwalks around the basin, but if you're looking for a fun activity that the whole family can enjoy and a unique perspective on the region's geothermal activity, our Yellowstone kayaking tour is just the ticket. The endless shores of Yellowstone Lake—the continent's largest mountain lake—have steamed and simmered in a geothermal flux for thousands of years deep in the heart of Yellowstone National Park. Steamy geysers gush at water's edge, mud pots bubble and hot springs sear, and all are easy to spot from your sturdy, stable sea kayak. Our friendly and experienced kayaking guides are eager to share their knowledge of the area, and we think you'll appreciate our comfortable and well-maintained touring kayaks, PFDs and paddles.
1/2 Day
Guided
Equipment Included
Family Friendly
Photographic Opportunities
Wildlife Sighting Opportunities
National Park Permittee
---
Yellowstone Lower Loop Tour
This tour offers all of Yellowstone's highlights in a nutshell. Famous for it's waterfalls, wildlife, and geysers, this tour was created to give you a taste of it all. Start the day heading to geyser country with an experienced guide, stopping for wildlife, photography and a few guided walks before arriving at the tried and true Old Faithful. You'll have the opportunity to explore the Old Faithful area and have lunch before heading over the Continental Divide and on to Yellowstone Lake. From there, tour through the wildlife habitats of Hayden Valley as we approach the Grand Canyon of the Yellowstone. Explore the beautiful Upper and Lower Falls before a relaxing drive back to West Yellowstone.
Full Day
Guided
Young Children Allowed
Family Friendly
Photographic Opportunities
Wildlife Sighting Opportunities
National Park Permittee
---
Grizzly and Wolf Discovery Center in West Yellowstone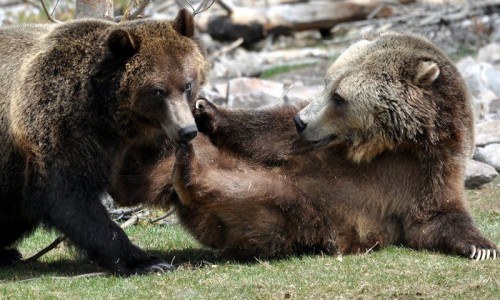 The Grizzly & Wolf Discovery Center offers every visitor to Yellowstone a chance to uniquely experience the world of grizzly bears and gray wolves.
All the animals at the Center are unable to survive in the wild and serve as ambassadors for their wild counterparts. The center is home to grizzly bears from as far away as Alaska and as close as Yellowstone National Park. Each bear and its story are unique but they all have something in common; they came to reside here after becoming nuisance bears or orphaned cubs of a nuisance bear. These bears learn to obtain food from people, damage property in search of food or become aggressive toward people and are usually killed. Instead of being destroyed, the eight bears that reside at the center were rescued. The center provides the bears with a large outdoor habitat that includes many natural features including grass, logs, trees, talus fields, mulch digging areas, a waterfall and deep pond. Each bear is also provided with a private indoor area.
Make sure to time your visit with the feeding hours, when keepers hide food within the habitat. Watch as the bears sniff out their food, dig it up and catch fish just like they did in the wild.
The center is also home to eleven wolves that live in three different packs. The wolves were born in captivity and are unable to live in the wild. The facilities where they were born did not have room to keep them and the GWDC was able to provide them a home. Here, the wolves give visitors an up-close look at their normally secretive lives. The wolves eat, play, reinforce their dominance hierarchy and howl right in front of the viewing areas.
1 Hour
Young Children Allowed
Cultural
Local Flavor
Family Friendly
Wildlife Sighting Opportunities
---