6 nights total (3 in West Yellowstone and 3 in Red Lodge) gives you plenty of time to explore Beartooth Pass and Yellowstone National Park. We've included some fun activities like rafting the Stillwater River and horseback riding in Red Lodge, a sea kayak tour on Lake Yellowstone, and the Grizzly and Wolf Discovery Center in West Yellowstone.
Enjoy 3 nights lodging in Red Lodge, MT and 3 nights lodging in West Yellowstone, MT with 5 days to explore the park and the dramatic area surrounding both of these towns. This package is a great addition to a road trip or we can coordinate a multi-destination fight and car rental.
In Red Lodge, stay at the historic Pollard Hotel and enjoy a family friendly rafting trip down the Stillwater River and a 2-hour horseback ride.
Take a day to drive over Beartooth Pass (there are many hiking trails at the summit) and to take in the sites of northeast Yellowstone.
Stay 3 additional nights in West Yellowstone. We've set up a full day kayaking tour on Yellowstone Lake and included 2-day admission to the Grizzly and Wolf Discovery Center.
You'll still have time to explore the region on your own. This package is easy to customize if you want to add or remove any of the activities.
This package includes:
Queen Room at the Pollard Hotel in Red Lodge, Montana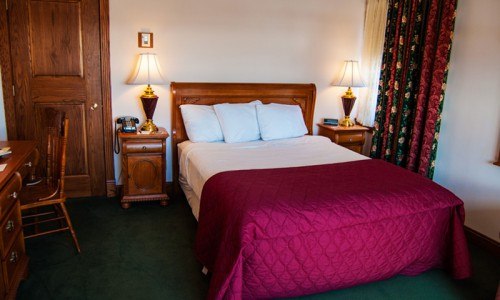 The queen room is a spacious old west style appointed room with one queen bed and a private bathroom. Each room is uniquely decorated and most contain an intimate seating area.
The Pollards historic charm has been winning people over for decades.
Free Breakfast
Non Smoking
Eco Friendly
Restaurant on Site
---
Standard Hotel Room in West Yellowstone
Standard guest rooms and suites feature upgraded linens, luxurious bath robes and 36-inch flat-screen TVs, and many feature fireplaces and whirlpool tubs. Complimentary breakfast included.
Fitness Facilities
Free Breakfast
Pet Friendly
Non Smoking
Hot Tub
Swimming Pool
Free parking
Business Services
WiFi
---
Stillwater Rafting Trip (Half Day)
The Stillwater River begins its journey high in the Beartooth-Absaroka Wilderness. Misnamed by Lewis and Clark who must have discovered one of the few quiet spots, this stunning river flows freely to the mighty Yellowstone River. The Stillwater meanders through a one sided canyon which was once the home the Crow Indians and majestic buffalo.
Watch for jumping trout, elk, deer, and other wildlife on this beautiful, wild river. The Class II-III rapids will sometimes get up to IV in high water season, and is exciting without being scary.
1/2 Day
Guided
Equipment Included
River
Exciting
---
2 Hour Horseback Ride near Red Lodge, Montana
This scenic trail ride takes place on the Barron Ranch, just north of Red Lodge Montana, and offers a picture perfect setting along the Stillwater River and through nearby foothills. It is a mild ride with no real obstacles and you will likely see birds of prey, foxes, antelope, whitetail deer and water fowl.
Minimum age is 7 years old.
2 Hour
Guided
Mountains
Photographic Opportunities
Wildlife Sighting Opportunities
---
Grizzly and Wolf Discovery Center in West Yellowstone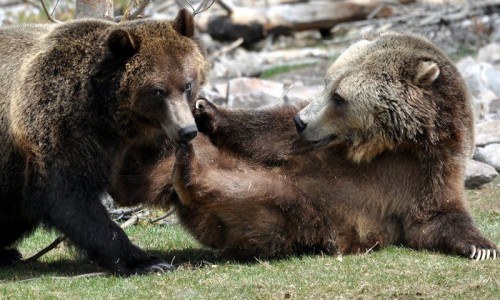 The Grizzly & Wolf Discovery Center offers every visitor to Yellowstone a chance to uniquely experience the world of grizzly bears and gray wolves.
All the animals at the Center are unable to survive in the wild and serve as ambassadors for their wild counterparts. The center is home to grizzly bears from as far away as Alaska and as close as Yellowstone National Park. Each bear and its story are unique but they all have something in common; they came to reside here after becoming nuisance bears or orphaned cubs of a nuisance bear. These bears learn to obtain food from people, damage property in search of food or become aggressive toward people and are usually killed. Instead of being destroyed, the eight bears that reside at the center were rescued. The center provides the bears with a large outdoor habitat that includes many natural features including grass, logs, trees, talus fields, mulch digging areas, a waterfall and deep pond. Each bear is also provided with a private indoor area.
Make sure to time your visit with the feeding hours, when keepers hide food within the habitat. Watch as the bears sniff out their food, dig it up and catch fish just like they did in the wild.
The center is also home to eleven wolves that live in three different packs. The wolves were born in captivity and are unable to live in the wild. The facilities where they were born did not have room to keep them and the GWDC was able to provide them a home. Here, the wolves give visitors an up-close look at their normally secretive lives. The wolves eat, play, reinforce their dominance hierarchy and howl right in front of the viewing areas.
1 Hour
Young Children Allowed
Cultural
Local Flavor
Family Friendly
Wildlife Sighting Opportunities
---
Full Day Yellowstone Lake Kayaking Trip
Meet at the Grant Village Marina for a full day kayaking tour along Yellowstone Lake. After some instruction and brief introduction to the area, hop into your kayak and follow your guide around the lake's shoreline to the West Thumb Geyser Basin. There are many geothermal features on land and under water that are great to explore from the seat of your kayak. Continue on to the remote Potts Geyser Basin for a picnic lunch and a short crowd-free walk around the basin. Keep your eyes peeled for wildlife, including elk, moose, and bison, as they often come down to the lake for a drink.
Both single and double kayaks are available. You'll be paddling about 2.5 miles each way but no prior kayaking experience is required.
Full Day
Guided
Local Flavor
Eco Friendly
Family Friendly
Photographic Opportunities
Wildlife Sighting Opportunities
National Park Permittee
Meal Included
---